Nicole Voigt  is founder of Soaring Moon LLC and is author and illustrator of "My Moving Activity Journal."
Founded in 2007, Soaring Moon is a print-on-demand publisher with a very simple business concept: fully utilize current technology to publish and promote meaningful books with minimal overhead.  Each book order is freshly printed and delivered directly to the distributor or consumer. We maintain no inventory, and have never relied upon brick and mortar for our success.  2013 has been Soaring Moon's best year yet.
Nicki has moved over 20 times, starting as a young child, and most recently, as the mother of young children.  Having lived in nine different states from coast-to-coast, she has first-hand experience in relocation.  The Moving Activity Journal combines her own moving expertise and research, with an appreciation of what it is like to be a little kid in the middle of a big change.
Nicki brings a multidisciplinary background and a passion for creating to Soaring Moon.  Her background includes her active practice as an attorney, managing business, work as an ecologist, research in environmental science, and teaching environmental education .  Since early childhood, she has written stories and poems, and she drafted her first moving journal during one of her own big moves (1475 miles!) at the age of thirteen.  Her longest move was over 3000 miles.  Her most important, enlightening, and rewarding job has by far been caring for her two fabulous children.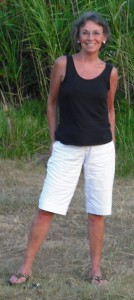 Jacquelyn Wavrunek ~ Soaring Moon Books is proud to announce that Jacquelyn Wavrunek is serving as editor of 'My Moving Activity Journal, 2nd Ed.'  Jackie is owner of Jacquelyn Graphics (www.jacquelyngraphics.com), a Fairhope, Alabama based Graphic Design firm with clients throughout the United States and the Caribbean.  Jackie brings unbounded talent and extensive expertise to Soaring Moon Books.  Her comprehensive experience includes computer based graphic design, putting pen and pencil to paper to create beautiful full-color or black and white illustrations, nation-wide Advertising Sales, creative Copy-writing, Web Design, and multi-project Art Direction.  Her commercial and fine artwork has spanned an impressive array of subjects and styles, demonstrating a true gift for limitless artistic expression.  In addition, she has been involved in publishing since the 1970's, providing artistic services to newspapers and later art direction, illustration, and sales as a partner of a weekly gardening periodical released through the Dallas Morning News.  She worked briefly for a major Art Studio in Chicago, Illinois before starting her own Chicago based Graphic Design firm.  Whether client needs are as simple as logo design, as comprehensive as a refreshed print-based corporate advertising campaign, or as detailed as a catalogue selling hundreds of products, Jackie has repeatedly impressed clients nationwide with her talents, professionalism, creativity, and demonstrated results.  In 2004, Jackie relocated her business to Fairhope, Alabama, where she is also involved with local artists and activism.  Her artwork and services are impressively displayed at www.jacquelyngraphics.com.